Patient Services - What to Expect.
WildRose Dental Hygiene Centre Offers Personalized Care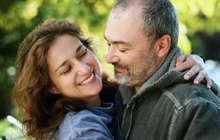 Registered Dental Hygienist Tracey Coté cares for patients with the philosophy that optimal oral health is vital to total wellbeing. She promotes personalized, alternative hygiene therapy, delivered with a gentle touch and listening ear. When you visit WildRose, Tracey will talk with you about your goals and expectations. Then she'll work with you to create a plan that will achieve and maintain your optimal oral health.
Respectful of Your Time
You will be seen on time. Tracey understands that your time is important, so she never double books patients and will always see you at your appointment time. After completing preliminary paperwork, you can freshen up with complimentary lip balm and BreathRx. Your comprehensive exam may include an oral cancer screen, gum disease assessment, probing and charting, intraoral photos, and digital X-rays, if necessary.
"I prefer continuity in my oral health care and a sense that the hygienist looking after me really knows what she's doing; knows me as a patient; and remembers me from visit to visit. Since I started going to Tracey at her Canmore clinic I'm getting the professionalism and consistency in care that I need. Excellent, high value, caring service."
Garth Henderson - Canmore, Alberta
Your Treatment Plan
Tracey will review your oral health status with you, making sure that you understand her concerns and recommendations. She may perform treatment during your visit or schedule a separate appointment for therapy. Tracey will design your treatment plan based on what you want.
Gentle, Thorough Dental Cleanings
Zoom Advanced Power Teeth Whitening
ProForm Athletic Mouthguards
Boil-and-Bite Mouthguards
Oral Healthcare Consultation and Personalized Instruction
All-Natural Dental Products
Traditional Gum Disease Therapy with Ultrasonic Scaling
Periowave Laser by Ondine for Gum Disease Therapy
Bio-Dental Hygiene
Bio-Dental Hygiene is a phrase coined by Tracey that refers to dental hygiene practiced with a more holistic approach...
.../read more about Bio-Dental Hygiene on the Holistic Health Page
For Your Safety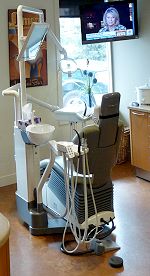 At WildRose Dental Hygiene Centre, safety is paramount. Tracey uses a Statim and Bravo autoclaves to sterilize reusable instruments. Our complete steri-centre is conforms to contemporary standards and includes a hydrin washer. Disinfectants, gloves, and masks are all maintained at a high standard of quality to add to the precautionary measures. Instead of traditional X-rays, Tracey takes digital X-rays, which expose patients to about 80-percent less radiation. Digital X-rays do not require harsh chemicals for development, which underscores the WildRose commitment to bio-dental hygiene – safe for you, safe for the environment!
For Your Comfort
The Sirona dental chair in the operatory is a leader in ergonomic, sanitary-friendly, contemporary design. Touch-sensitive controls allow Tracey to reposition the chair quickly and smoothly with minimal disruption to you. Enjoy a DVD or television show on a chairside, high-definition television during your appointment. Afterwards, freshen up with a plush towel and complimentary lip balm. You'll leave WildRose Dental Hygiene Centre with plenty of samples to explore the best products to maintain your optimal oral health.