Contact & Location Information
Wildrose Dental Hygiene Centre - Canmore, Alberta
Canmore's Wildrose Dental Hygiene Centre is located on Bow Valley Trail which is parallel to the CPR railway tracks (immediately south) and the Trans Canada Highway (immediately North). Heading west on Bow Valley trail find us between the east and west turn-offs to downtown Canmore. Look for the blue sign featuring a large white tooth. Off street parking is available in front of the clinic.
WildRose Dental Hygiene Centre - Suite 101 - 999 Bow Valley Trail - Canmore, Alberta, Canada T1W 1N4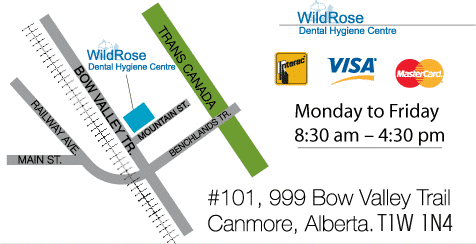 Why visit Tracey Simerson for your regular dental hygiene care?
"I was so pleased to find Tracey again after she left Banff. I find her professional, detailed, and caring. She keeps up to date and shares the new information with enthusiasm. I find her clinic clean and efficient. Thank you Tracey!"
Sincerely,
Adriana Kock, Banff